So another one has gone, Python are now four, and we're a little bit the poorer.
News overnight of the death of Terry Jones, comedian, historian, writer, director, insurrectionist, and all-round good human, was deflating if not surprising given his slow decline through a long and most unfair illness that affected his second-most precious asset, his brain – his most precious was his heart, which underscored so much of his humour.
Plenty of great things are being said about him by contemporaries, acolytes, colleagues and regular fans, so do seek them out. Here's one of my career favourite moments, a chance to talk to one of the people who shaped my sense of humour and life.
In this interview from 2013, where in retrospect some of the early signs of the dementia which would eventually kill him were evident, he tolerated a fan boy, entertained familiar notions without boredom, was funny, clever and bloody charming.
Regular Terry Jones in other words.
There are more than a few arresting things about Monty Python's 1983 film, The Meaning Of Life.
In fact you might already have a list of your own, possibly beginning with Martin Luther as a pederast, a birth scene where the machine that goes ping is balanced by a cleaver-wielding doctor, and a hyper-tanned John Cleese all but exploding from the screen even before the morbidly obese Mr Creosote really does explode, spewing food, organs and some bits you never want to identify everywhere.
But possibly the most startling thing about The Meaning Of Life is how even after 30 years the work of the six men (five British and one American) can still shock and disturb even as you laugh. And laugh. And join in with the dancing and singing Catholics in Every Sperm Is Sacred, spawned, as it were, by Michael Palin's earnest father explaining that "if a sperm is wasted, God gets quite irate".
"I think we designed the film to shock people so I'm glad to hear that," says a typically good-humoured Terry Jones, the Python who directed The Meaning Of Life and The Life Of Brian and co-directed Monty Python And The Holy Grail.
"Though when Mike [Palin] sang the song to the children we substituted the word sock for cock so he says there's a rubber thing on the end of my sock and we redubbed it later."
Even discounting such catering for the sensibilities of children, the film, the last to be made by the Pythons as a whole, wasn't just out to shock. It had a visual and production ambition far from the cheap sketches of their first film a decade earlier when Jones, Palin, Cleese, Eric Idle, Terry Gilliam and Graham Chapman essentially transferred the TV show sketches to the bigger screen for And Now For Something Completely Different.
As the director who had wrestled control from the producers, and Gilliam, Holy Grail's co-director, Jones had grand plans. That much is obvious from Every Sperm's big production number in the mould of the musical film Oliver!.
"We had the wherewithal to do that," says Jones. "I think the budget was $8 million or something like that so we have the budget to spread our wings a bit - The Holy Grail was shot on £150,000."
Interestingly, while bigger and bolder and more elaborate and expensive than its predecessors, The Meaning of Life was not exponentially bigger at the box office, Jones reveals. This despite the fact that Monty Python were by now international stars and the American financing for the film came in part because of their clout – and it turns out also from the hope that being associated with the Pythons would attract to the film company those high-profile American comedians who were dedicated fans.
"I think it had less impact, perhaps because we went back to the sketch formula," says Jones. "Certainly with the things everybody quotes: in the UK The Life Of Brian is the one everybody quotes and in the US It's The Holy Grail. But I still think of certain episodes from the film that in my mind are clearer than the TV shows."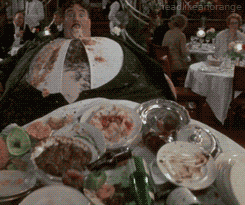 Actually, Jones admits, he'd be useless at those parties where over-lubricated Python fans can bore relentlessly with repetitions of their favourite skits from the TV show, Monty Python's Flying Circus, and the four films.
"I couldn't do any Monty Python routines," he says jovially. "I couldn't remember them." Though he does recite, with almost total recall, a skit he wrote for The Frost Report (an early training ground for almost all the Pythons) which pre-dates Flying Circus by at least three or four years.
As it is, Jones doesn't need to remember the best moments of his career; we're doing it for him. The 30th anniversary of this film is being marked by a Blu-Ray release with a new documentary, but it's not like we have been short of commemorative events for Monty Python over the past 20 years, with several career retrospectives, anniversary re-releases of the TV show and films and of course individual milestones, and even Palin's diaries.
It is almost as if history has turned out the way imagined by the post-Python comedy show, Not The Nine O'Clock News, in their parody of the furore around Life Of Brian. In that skit, a TV panel discussion shows a world where the established religion of Python in the UK means that "whenever two or three are gathered together in one place, then they shall recite the parrot sketch" (to which the only appropriate response is "It is an ex-parrot. It has ceased to be.")
In this ongoing history Jones, always among the most affable of the troupe and, along with Palin, the whimsical but equally absurd counterweight to the more acerbic writing pair of Cleese and Chapman, has become used to the questions and familiar with the answers.
"I'm very proud of the films though you do go on to automatic pilot sometimes you don't know what you're saying really," he confesses with a chuckle.
While we are in confessional mode, I tell him that I don't think I'm the only person for whom some of the earliest formative experiences and "understanding" of women came via the Python's, and in particular Terry Jones' portrayal of women.
"Oh dear," he says. "Oh dear, that's very bad news. I think we were a bit sexist. My 'pepper pot' [his standard doughty working-class woman, for example Brian's mother] used to look extremely like my mum. So maybe that's a good thing."
Jones, it could be said, made some of the best or worst women. Is that a legacy to be proud of?
"I just took the parts that nobody else wanted to do," he laughs again. "I suppose I've got a feminine side but I like women too much. I like their company and I like being married to one."
Terence Graham Parry Jones: February 1, 1942 – January 21, 2020.